Staff
Rick Holliday
Bay Area native Rick Holliday graduated from the University of California at Berkeley, earning both an undergraduate degree in urban policy, and a master's degree in city and regional planning. He went on to first launch Eden Housing and later BRIDGE Housing Corporation, two of the most successful affordable-housing corporations in the nation, before starting Holliday Development in 1988. Rick oversees the strategic, corporate, and political positioning of Holliday Development. Additionally, he is chairman of the board of BRIDGE Housing Corporation, and a guest lecturer for the Urban Land Institute, the University of New Mexico's graduate program in Real Estate, and the Real Estate MBA Program at his alma mater. Married with two grown daughters, he currently resides in Berkeley.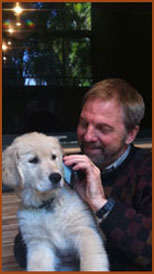 Carmela – Stress Reduction Manager
As a stress reduction manager with Holliday Development, Carmela is a natural at her craft - just like her predecessor Miss Jonesy. While the office hums with new ideas and existing projects, Carmela keeps everyone calm by trying to share her bone, napping, and checking in with each team member at least a couple of times daily. A Bay Area native, Carmela lives in Berkeley with Rick and Nancy. Her favorite project is the Truckee Railyard because it has the best pinecones (aka doggie Altoids) on the planet.
Nancy Holliday
Nancy has been involved in Holliday Development since the company's inception; the house that she and Rick built by hand served as equity to start Holliday Development. Formally trained in exercise physiology at UC Berkeley, Nancy developed programs in corporate and hospital health promotion and in nutrition and cardiac rehabilitation for over 10 years. In 1990, she shifted her focus and began running design centers at Holliday Development's Bay Area loft projects. Recognizing a unique opportunity, she soon opened her own business, DesignMesh, which worked to find creative and cost-effective ways to furnish the common spaces in affordable housing projects, including reselling developers' model furniture and using student art and photography. DesignMesh then expanded into the budding tech world and produced some of the earliest real estate websites, winning a Best of the Bay award for Holliday's Emeryville Warehouse project. Nancy now serves as the Creative Director at Holliday Development where she is responsible for websites, photography, branding, and interior design. In addition to her work at HD, Nancy is also an artist working with her photography and alternative printing materials. Her work can be found here.
Kevin Brown, Partner
Kevin has been applying his passion for innovative real estate and community development for over a decade with Holliday Development. In addition to working with Rick on the strategic vision for the company, Kevin manages all aspects of the development process, starting from acquisitions and finance through to design, construction, and marketing. Kevin has overseen more than 750 new residents join award winning Holliday Development communities. His work has ranged from boutique residential developments to complex master plans and land development.
After receiving a degree from Georgetown's McDonough School of Business with an emphasis on Finance and Psychology, he returned to his Bay Area roots and lives in Oakland with his wife Andi, twin boys Adam & Graham, dog Tucker, and cat Henry. He is also an active cyclist and USAT tri-athlete.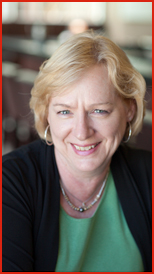 Doris Brown
Doris comes to Holliday Development with an eclectic background and array of professional skills including art, graphics, printing, project management, business organization and customer service.  Previously as a principle at WET Studios, a digital design and production management company, Doris worked on most of the large signage for the Holliday Development projects.  Doris is now full time at Holliday Development and is in charge of working with all buyers on upgrades to their newly purchased homes.  Doris is also a crucial part of keeping the HD office running smoothly and efficiently.  She is also the biggest Giants fan this side of the bay!